Hello Britech Community
I would like some help i have a problem with this popup that well keeps poping up sometimes.
I had a virus extension on chrome i don't have the name but i have the extension id? (if you call it that sorry about know a lot)
olojcnagmcbplpdddabmpfehhlleobpb\10.1.3.53_0
I got it removed at the 23/12/2018
We are the first of 2019 and i sometimes get this scamy looking popup.
Unfortunately my pc is in Dutch but basically it says: "watch out windows user the sites u went contains malware if you restart or shutdown your data is lost call this Microsoft support number." (it also uses tekst  to speech)
Also in the left top corner it says Bericht van webpagina translated it says Message from webpage.
when i got this message i was playing music on youtube in chrome  and playing forza
i took a screenshot for you guys i hope you guys have enough information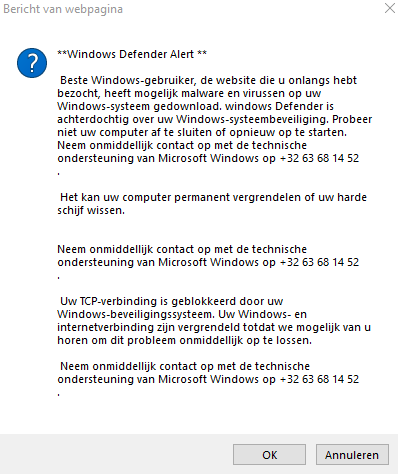 What i did:
AVG deepscan
Malwarbytes Deepscan
Factory reset Explorer and Edge
Factory reset Chrome and Firefox
Deleted them and fresh new install
but no success i don't get this popup often but i get them i don't know from where hopefully you guys can help me out
and not needing to factory reset my pc.
P.s i wish you guys a Happy virus free New Year